A/Prof Wendy Raymond
MBBS, MD, FRCPA, FIAC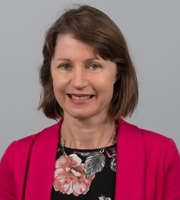 Associate Professor Wendy Raymond qualified in Medicine at the University of Adelaide Medical School in 1986 and went on to specialise in anatomical pathology, gaining her research degree (MD) on prognostic markers in breast cancer in 1991, and her Fellowship of the Royal College of Pathologists of Australasia in 1992. Her pathology training involved appointments at the Institute of Medical and Veterinary Science (IMVS), The Christie, St Mary's and Withington Hospitals, Manchester, UK, before returning to South Australia to become Senior Registrar and then Consultant Histopathologist at Flinders Medical Centre and Senior Lecturer at Flinders University until 2004.
She held a Visiting Consultant appointment as Cytopathologist at BreastScreen SA (1998-2015), and worked part-time as a Specialist Pathologist for Drs King and Mower Pathology/Healthscope Pathology, from 2005-2014.
She also continued as a part-time specialist at Flinders Medical Centre (SA Pathology) and, since 2010, has held the academic title of Associate Professor in the School of Medicine, Flinders University. A/Prof Raymond was Senior Pathologist, Head of Unit, at BreastScreen SA 2012-2015. In 2012, she was awarded Fellowship of the International Academy of Cytology. She is an examiner for The Royal College of Pathologists of Australasia, is a Past President of the Australasian Society of Breast Disease and is currently President of the Australian Society of Cytology. She has been actively involved in national breast cancer reporting guidelines, implementation of HER 2 assessment and quality assurance committees.
A/Prof Raymond has a particular interest and expertise in breast and endocrine histopathology, fine needle aspiration cytology and general cytopathology, and has published widely in these areas.
Special interests: Surgical Pathology of breast and endocrine tissues, cytopathology